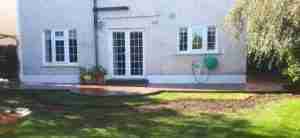 This is a garden paving job recently completed in Bettystown co. Meath. Our clients wished to have the tired bland concrete paths that surrounded the sides and rear of the house replaced with new paving.
They had chosen Chalice paving in Honey brown colour with two 1.5m circle kits for in front of the rear windows from  local manufacturer Chapter Stone paving.
All the old concrete paths and paving , soil& beds were broken out and removed and the new paving installed with a gravel border to the sides to assist with the drainage. as the garden sloped away from the house a kerb edge was installed as a retaining edge to the patio and to create a raised terrace appearance to the patio.