Gardens designed and transformed, Fencing installed, Turf lawns laid, raised beds built & planted garden lighting installed, patios laid with a range of styles and materials.
In this garden we designed using circular 3m diameter Glenmore patio, raised brick paved terrace area. New weed free turf lawn with low maintenance styled raised brick edged beds.
Garden before
This garden in Roschoill, Drogheda had a great need for a garden makeover. Its previous owners had done some D.I.Y work on the garden creating some sunken paths and decking but it hadn't stood the test of time and had made the garden unusable and difficult to maintain.Its new owners were a young family and wanted a low maintenance designed garden that would look good all year round and one that the whole family could use.They wished to have two patio areas within the garden. One at the house for outdoor dining and  a second further down the garden to catch the evening sun that would also be a feature seen form the house.
Garden design
Firstly i created a curvilinear(curved) design that would soften the garden with raised beds and patio with a second smaller circular patio at the end of the garden set in to the raised beds.
The planting here would contain some birch trees for screening the houses behind and a mixture of cottage perennials and shrubs for seasonal colour.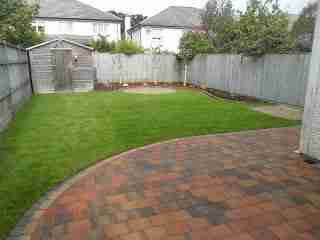 Finished garden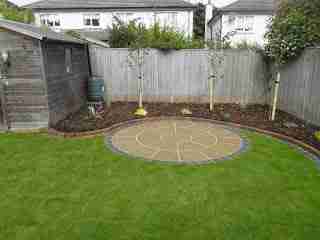 Circular patio and raised beds
The patio was a Glenmore circular patio 2.4 m from local suppliers Oldbridge concrete while the terrace and raised were supplied by Tobermore concrete.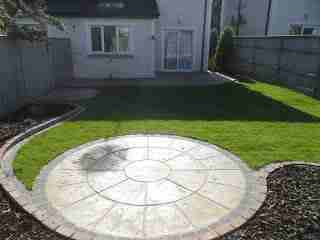 Curvilinear design patio and garden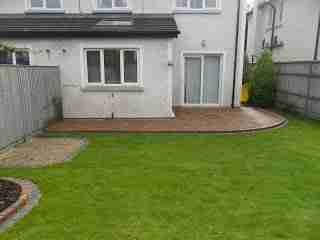 Raised terrace for entertaining
The existing lawn was lifted and levelled with tops soil and then a new turf lawn was laid for an instant weed free lawn. This simple design and professionally executed work transformed the garden form a drab unusable space to a beautiful low maintenance family garden.
https://www.greenartlandscapes.ie/