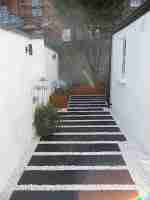 Gardens designed and transformed, Fencing installed, Turf lawns laid, raised beds built & planted garden lighting installed, patios laid with a range of styles and materials.
Contemporary
 urban low maintenance styled garden.Black Limestone stepping stones with
white marble 
decorative gravel and garden lighting. White washed walls and raised beds with cedar timber 
seating.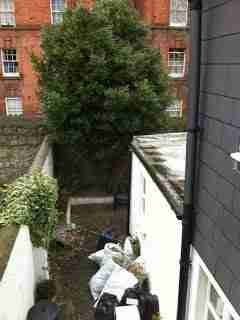 Rear garden yard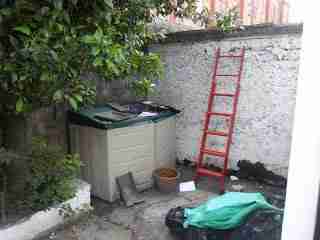 Rear garden with cluttered storage space
This property in New Bride street Dublin was a Victorian terraced house with a narrow and unappealing  l shaped rear garden yard. Its owner which also used the property for teaching students wished  to have a contemporary garden space that could also be used for entertaining in the summer months.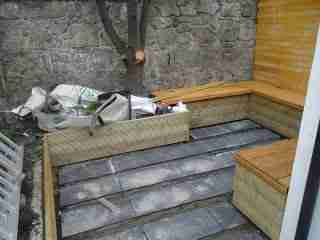 Stepping stones and storage benches in progress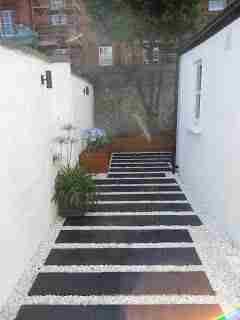 Limestone stepping stones and white marble gravel with garden lights
The design we implemented was based on a rectilinear design centred around black limestone stepping stones and white marble gravel surround with a seating area which could be used also for storage. We created raised beds and the seating with a mixture of pine and cedar decking and clad the rear wall with pine .Lighting insets were set in  the cladding and down lighting on the side walls with an up light on the bay laurel tree to light the garden up at night adding another dimension to the new garden.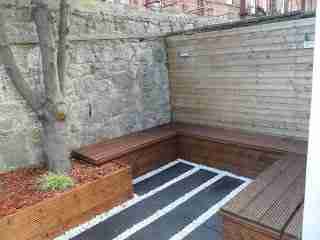 Finished seating area with lighting
To maximise the space in the garden the seating units we created could also be opened to be used as storage units while also we created bespoke timber box styled houses to conceal the wheelie bins.
The planting consisted of a mixture of low maintenance grasses & spring bulbs for seasonal colour with an Astelia grass,Maple tree & re-positioned variegated holly. With two fibre glass pots with Agapanthus climbing rose for added structure.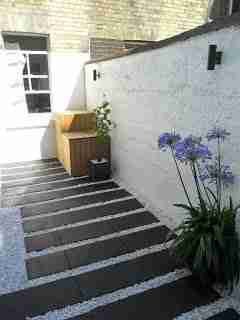 Storage units concealing bins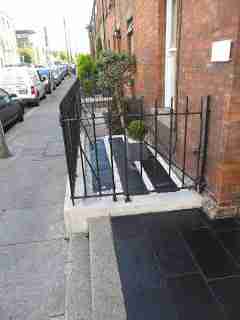 Limestone steps and front bed with led lights inset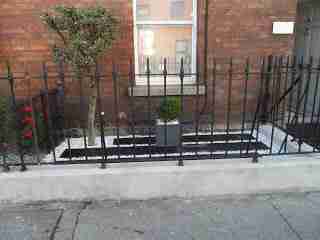 Front garden walling repaired and space redesigned
https://www.greenartlandscapes.ie/