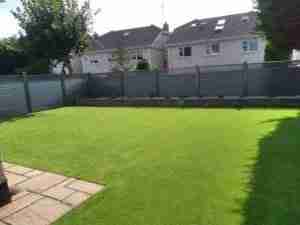 Elite Fence Low Maintenance Fence Wheaton hall Drogheda co. Louth Transforming a weedy ,tired  and difficult to manage garden with poor boundary and privacy.
We replaced the weedy lawn with a low maintenance lawn. The low maintenance fence by Elite fencing was erected to conceal the walls and raise the boundary heights to three sides creating a more fluid and private space with a contemporary feel.
Elite Garden Products have a superior durable abrasion resistant front and back colour coating. The galvanised steel substrate is extremely corrosion resistant. PVC exterior finish has UV Protection to provide the highest retention in colour.
Low maintenance beds were created with Connemara walling, cottage perennials and decorative mulch to create a soft classic planted bed set off with Merlin Grey Elite no maintenance fencing with trellis top.