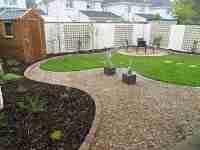 Garden design makeover with a curving lawn and raised beds. With a circular sandstone patio, trellis on newly painted walls with a low maintenance upkeep. This garden we created in Wheaton Hall, Drogheda co. Louth had been previously cleared by its owners the year before. They now wished to have a new relatively low maintenance and contemporary styled garden to enjoy.They had stripped the lawn of large shrubs, scrub and some top soil and  it now required a complete makeover.One of their requirements was to have a good sized central lawn surrounded partially by gravel and raised beds.
The large central tree was to be removed to create more space as well as a maturing ash tree in the garden. I came up with a curvilinear (curving) design that would incorporate all these requirements of the brief and hid the manhole covers using gravel and two fibre glass pots containing  striking architectural blue/ green Astelia grasses.
We set a 3m diameter sandstone patio with brick edging where the old shed was and fitted a new 5 x 5 ft shed in the opposite corner. Raised beds were created to give some elevation and definition to the design . They incorporated a mixture of seasonal flowering perennials and small shrubs and two striking silver birch trees for some added privacy to the rear of the garden as added height and structure to the garden .
Their garden contained two manhole access chambers which they wished to have disguised but still keeping   the access to if needed. Also they wished to have the existing shed removed as it was falling into disrepair and wished to have  new patio in this area as it received the most sun throughout the day.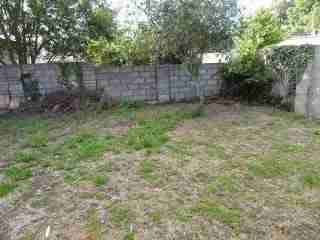 Previously cleared garden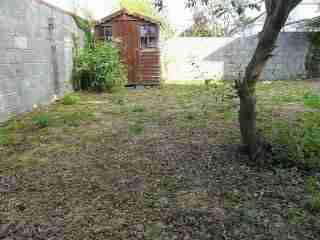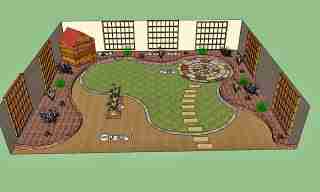 Garden design elevation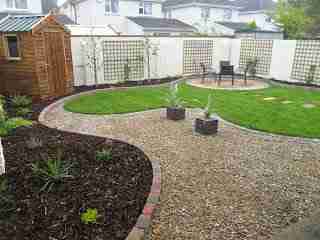 Raised beds, gravel and turf lawn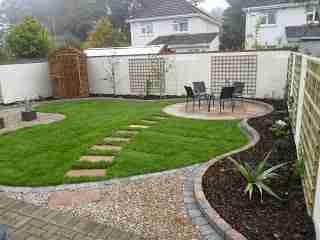 Stepping stones to new circular patio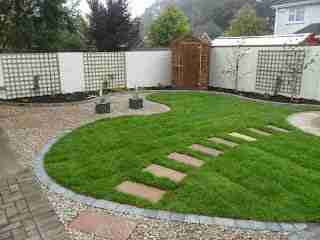 New 5 x 5 ft shed and finished garden
https://www.greenartlandscapes.ie/