Gardens designed and transformed, Fencing installed, Turf lawns laid, raised beds built & planted garden lighting installed, patios laid with a range of styles and materials.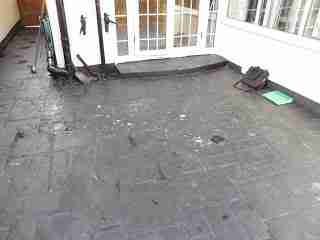 Dark and degrading concrete imprint surface
This garden in Templeogue co.Dublin was crying out for a new makeover.Our clients here were busy hard working people who liked to enjoy sitting and eating outdoors when they had the free time. They had built a new conservatory but hadn't a nice view form it, or from their kitchen. The dark imprinted concrete hard surfaces and constricting fence offered little aesthetic beauty which made an average sized urban back garden look very small and uninviting.The concrete surfacing which was also chipping away offered little character and had become slippery when wet, while the garden became partially water logged after raining or washing down the hard areas particularly in winter. This was partly due to the large roof surface of the shed, where the gutters hadn't been connected to the storm drains and overflowed into the garden itself.This we rectified while also installing a land drain to drain the lawn area.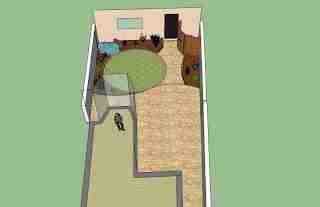 Original 2D axonometric garden design with raised beds edged using new pine sleepers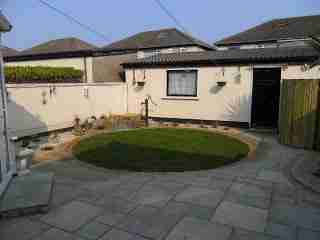 Circular turf lawn 
For the new surfacing we chose calibrated Indian limestone paving which is cut to uniform 25mm thick stone slabs in three sizes which added more detail and colour to the paving area. This was edged with gold granite kerbs which were also used to define the the bed areas which were planted up with a mixture of cottage perennials and covered with Donegal quartz gravel which gives a pinkish hue when wet while also helping to retain moisture in the soil for the plants.Meaning less watering too.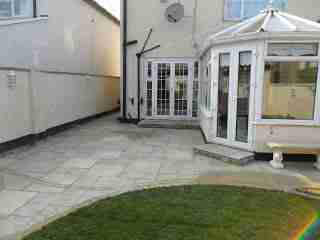 Indian limestone paving.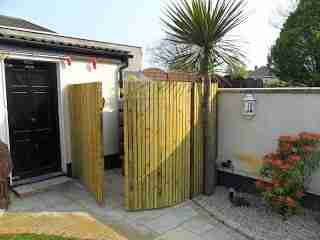 Curving screen doors for wheelie bins and oil tank. 
The oil tank was screened with a bespoke screening of pressure treated timber batons mounted on a curving frame which suited the overall curvilinear design of the garden and made best use of the space to allow access to the shed while concealing two wheelie bins and the oil tank itself.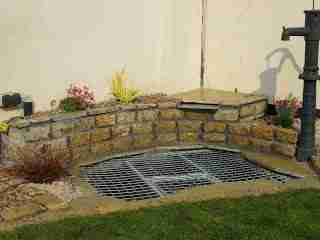 Cascading water fall rockery style and safety frame. 
The pond was re- created to a curving rockery style with a contemporary cascading water effect which added a gentle sound to the garden. The pond surface was fitted with a galvanised steel safety frame (which doesn't rust) with an access door which could be stood upon when working at the rockery or pond.
The next project was to clad the shed building with ship-lap cedar boards which would soften the building and once oiled with linseed oil gives a warm colour to the timber.
https://www.greenartlandscapes.ie/