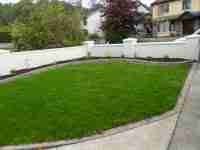 Gardens design. Fencing installed, Turf lawns laid, raised beds built & planted garden lighting installed, patios laid with a range of styles and materials.
Low maintenance garden design with raised brick edged beds and weed free turf lawn.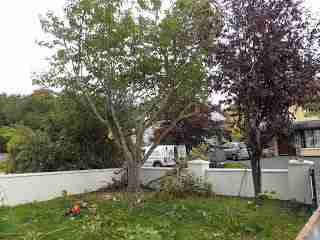 Garden before with two  large cherry trees at boundary.
This garden design in Five Oaks Drogheda co. Louth had two large cherry trees which were starting to damage the boundary wall as its roots were coming up underneath the foundations as can happen with certain cherry tree species which are over 20 yrs old. The overall look of the garden was beginning to neglected looking and a poor reflection on the frontage of their house.
As part of the garden design It was decided to remove the trees and create some new raised beds in there place and a new turf lawn could also be laid now. The lawn could now be graded better to reduce the existing slope which was quite steep. We did this by raising the lawn at the bottom of the lawn with decorative kerbs. A mowing edge was also laid around the lawn to negate the use of a strimmer and make lawn cutting easier with a tidier finish.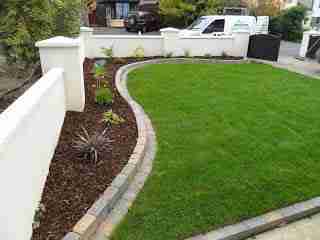 Curving raised bed with mowing edge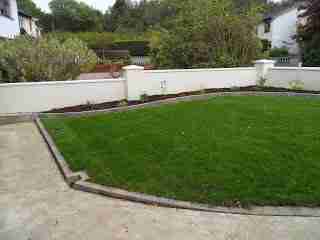 New turf lawn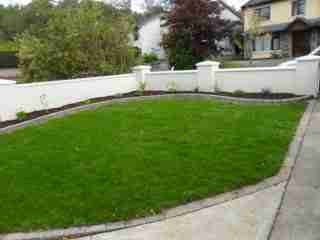 Turf lawn + mowing edge
To the right hand side of the garden we created a second bed with decorative gravel as a mulch. The plants used in the garden design were a selection of hardy perennials, Delpiniums, Lavender, grasses, heathers, agapanthus, Astelia, Pittosporum with spring bulbs such as crocus, miniature daffodils and grape hyacinth for seasonal colour.
Also a small Japanese Maple tree (up to 3m tall when mature) was planted to replace the cherry trees which turn a fiery red/orange in autumn .
New gravel bed


To the rear left side we created a raised sleeper bed in an area which was a previously neglected and dull looking space which was difficult to maintain and keep tidy.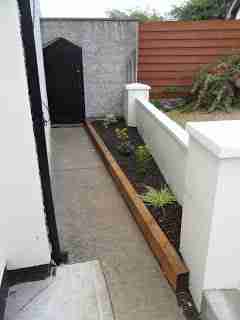 Raised sleeper bed
https://www.greenartlandscapes.ie/