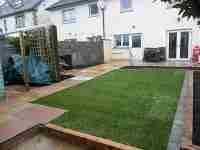 Gardens designed and transformed, Fencing installed, Turf lawns laid, raised beds built & planted garden lighting installed, patios laid with a range of styles and materials.
Contemporary styled garden with an  Indian sandstone patio and path,  sleeper edged raised beds and covered bicycle shelter.This garden in Drogheda co.Louth had been constructed some 8 – 10 years ago perhaps by a enthusiastic DIY' er or  poor tradesman.and had many issues. The area had been incorrectly paved with  Indian sandstone which had been laid upside down and uneven with un grouted joints.he result was a poor slippy and trip hazardous garden with weeds growing in the joints and algae on the slabs.Their access points to the inspection chambers and drains had also been covered over which meant that they couldn't be accessed if there was a blockage.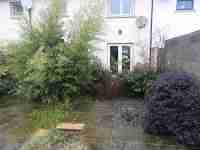 Overgrown and unusable space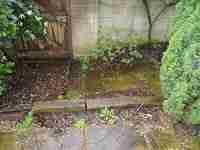 Slippery  slope and poorly supported edging.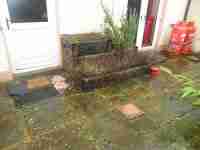 Slippy patio area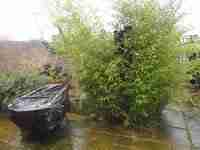 Blocked views of garden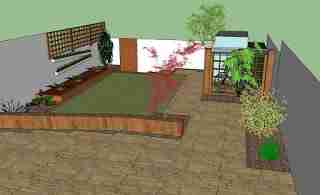 Garden design
Its new owners were a young family who wanted to have a garden with a lawn area for their young child and an area which they could use themselves for outdoor living and growing some vegetables.
We decided that their best option was to have the slabs cleaned and relaid to correct falls as they weren't in overall bad condition. New recessed covers for the inspection chamber were fitted with a linear channel drain laid against the house to protect the damp proof course.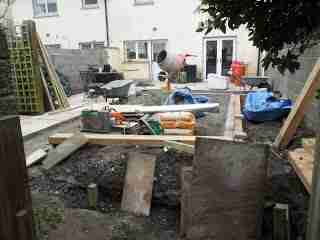 Garden regeneration in progress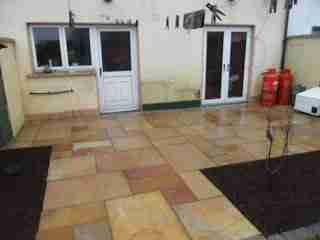 Relaid  Sandstone patio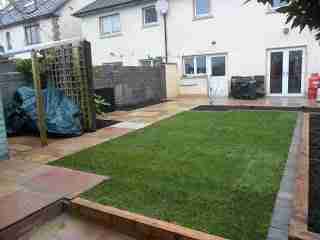 New turf lawn,raised beds.
A new adequately sized lawn area with mowing edge was designed to balance the paving with raised sleeper  beds for growing vegetables in. Trellis screening was fitted to raise the height of the low boundary wall and a bicycle shelter was constructed also to house their bicycles.
Bicycle shelter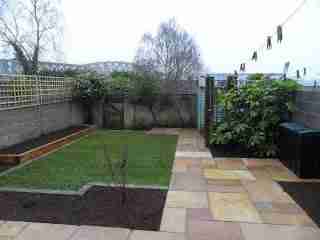 New open space for family to use.
New beds with a Japanese Maple ,rosemary lavender and space to accommodate other kitchen herbs was allocated.We created a new retaining support wall for the lawn with sleepers and new steps leading to the rear garden gate.Our clients were delighted with their new garden.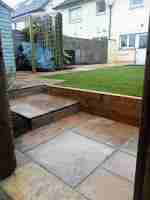 New supported lawn and steps
https://www.greenartlandscapes.ie/