Rear garden before 
This garden in Inse Bay, Laytown co.Meath had a sandstone patio that had been laid previously with a fall of too steep a gradient. The garden lacked any real definition or colour in its plantings while the lawn was quite worn and uneven and sloping as well as being weed infested.Our clients wished to have decking installed where the patio was and also at the rear of their house so that they could follow the sun around the garden from morning to evening and make the best use of their garden for relaxation. They also wished to have their wheelie bins screened and a new larger shed fitted.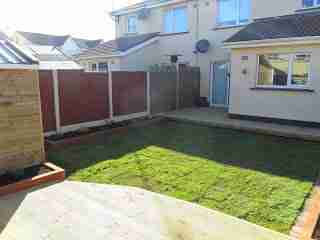 We installed the deck in two areas and along the rear of the house to mask the existing concrete path. Raised beds with seasonal flowering perrenials and a honey suckle scented climber for the rear wall would soften the garden and create interest and warmth throughout the year.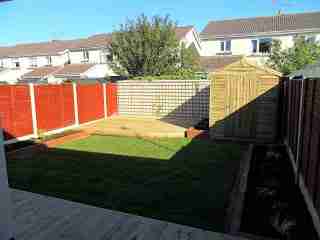 New garden  deck,raised beds,trellis and new turf lawn.
A new turf lawn was laid with a brick mowing edge surrounding it to reduce the need for strimming edges. A couple of coats of decking oil would finish the garden and add warm natural cedar colour to the wood while aid in preserving the timber and keeping it clean.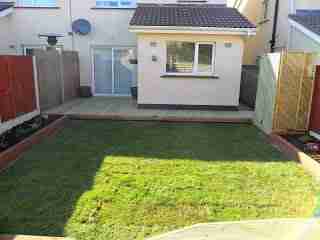 New decking with clementine trellis screening for wheelie bins.
Timber Clementine panels were fitted to screen the wheelie bins which were also raised level with the decking.
https://www.greenartlandscapes.ie/