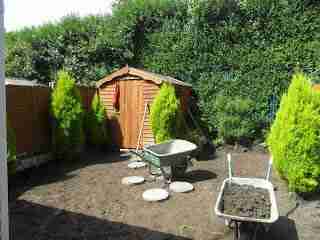 Garden regeneration in progress
This garden in Bryanstown, Drogheda co.Louth suffered from poor drainage due to steep sloping nature of the garden and a hard and poorly draining subsoil.
Low maintenance garden
Our elderly client wanted a low maintenance garden as the garden was becoming difficult to maintain and was very wet during the winter and when the weather was bad.
She wished to have a patio at the rear of the garden which she could use for outdoor relaxing and entertainment.
We used Oldbridge's Glenmore circle joined with old abbey paving with their country stone units to make raised beds and low retaining walls with a New forest flint decorative gravel mulch that would look good all year round.
The drainage problem was alleviated by a land drainage system we installed to collect the excess water and disperse to an outfall.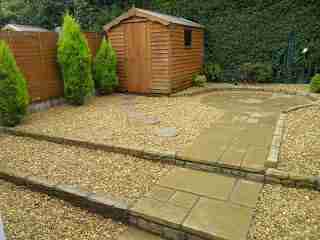 New terraced garden
We created a stepped terraced garden in a geometric form which broke the steep gradient of the garden while enhancing the three dimensional space by raising and lowering areas , projecting vertical elements by the symmetrical arrangement of the Cupressus macrocarpa 'Goldcrest' trees on the left hand side of the garden.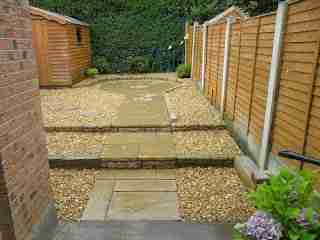 Finished garden
https://www.greenartlandscapes.ie/