No maintenance PVC fencing
 Maintenance free PVC fencing. Strong and durable made from recycled PVC fencing produced to replicate a natural timber finish. Can be fitted to existing concrete H post systems of any height where old or rotten timber panels need to be replaced. Or fitted with steel reinforced PVC posts. More cost effective than post and timber panel systems as the panels wont need replacing as they wont rot.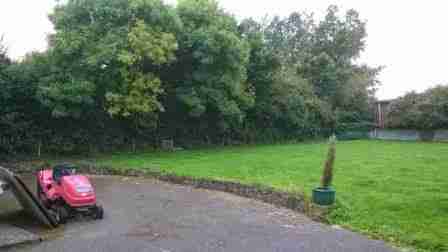 Previous unsecured boundary
 This garden in Drogheda co.Louth had along  (40m) chain link fence and hedgerow boundary dividing their property from their neighbours . It wasn't secure enough to keep their pets in or to keep the neighbouring hedgerow back from encroaching through and onto their property. They came to us looking for a permanent maintenance free fence that would be durable and aesthetically pleasing. We suggested a Pvc fencing of 6 ft high which is made from durable recycled pvc and had a a natural timber finish. The post are made with steel centres for added strength but allows slight movement for high winds.
"Eco-Fencing systems have the strength, in independent testing Eco-Fencing proved that it has greater tensile strength than concrete posts. Concrete posts will not flex and can break in high winds and severe storms."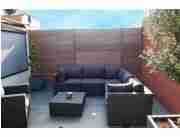 "Can be fitted to existing concrete H post systems of any height where old or rotten timber panels need to be replaced."
"Wood grain is produced from 92% recycled material
Further research https://greenartlandscapes.ie/category/pvc-fencing/