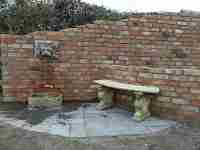 Gardens designed and transformed, Fencing installed, Turf lawns laid, raised beds built & planted garden lighting installed, patios laid with a range of styles and materials.
Reclaimed red brick Garden folly with raised beds,seating area and water feature.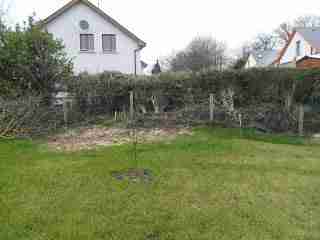 Garden before construction
Our client for this garden in Termonfeckin, co.Louth wanted a garden feature that would resemble an old partly ruined wall which would have some raised beds for growing cottage plants and kitchen herbs.
Together we decided on the look and size of the folly that she wanted and the materials to use, which would be reclaimed bricks. She wanted a water feature that would spout water gently into a trough and and area to sit beside where she could enjoy the evening sun and listen to the sound of the water splashing which would be very relaxing.
Under construction with shredder for prunings
Garden folly created with raised bed and water feature
The wall is about 10 m long and starts at 1m high rising to 1.7m at its highest point though appears higher as the ground also rises up as you enter the garden.
Solid concrete foundations were poured (10m x 0.6m x 0.6m) so that a supporting wall of concrete blocks could be built behind the reclaimed wall and fixed together using metal mesh ties. About 5 to 6 tonnes of soil was used to fill the beds at the front of the wall which are also doubly supported with an inner concrete block wall.
Access steps to tiered beds
Access steps were place in the front bed walls to be able to work on the beds.
Our client is a keen gardener and would plant the beds herself with a mixture of cottage perennials and kitchen herbs as well as some climbing an trailing plants in front and on top of the wall itself.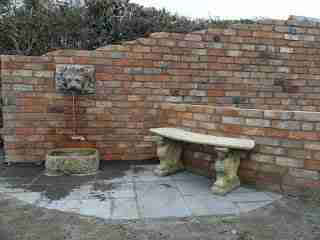 Lions head water feature with trough and seated area
https://www.greenartlandscapes.ie/