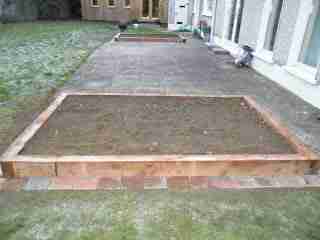 Raised sleeper bed for vegetables
These raised vegetable beds are ideal for growing a variety of edible fruit, veg and herbs. These beds are 2m X 3mX 100mm deep either side of a patio area using pressure treated new sleepers. 8 pressure treated new sleepers in total. The beds are rectangular in shape with a brick edging laid on mortar that goes all the way around the perimeter of the sleepers,this is though not fundamental it makes it easy to mow around the beds without strimming the grass which would grow against the sleepers in the lawn area.
I sprayed the grass first with a organically friendly herbicide and hand treated also as there was a very bad weed in the lawn (horsetail).The beds were filled with good dry topsoil 1.5 tonnes. (screened soil can also be used or a mixed soil and compost which can be purchased in 1 tonne units)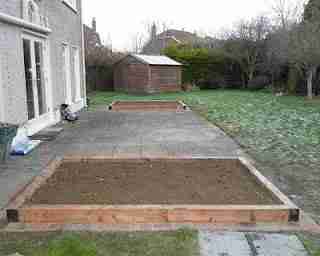 4 or 8 beds can also be created for crop rotation purposes. Fruiting bushes(currants,blackberries etc) need only to be moved every ten years. Perennial herbs can be grown in the same place for 5yrs.
If you follow a crop rotation programme , a section which has leafy plants in the first year will be occupied by root plants in the second year. Potatoes will then follow in the third year and legumes in the fourth..
Good combinations:
Potatoes and horseradish- increase yield.
Beets and onions- encourage growth.
Lettuce and chervil- keep aphids away.
Leeks,carrots and salsify- prevents leek fly.
Tomatoes and African marigold- good against white fly.
Cabbage and clover- helps keeps cabbage predators at bay.
http://www.greenartlandscapes.ie/