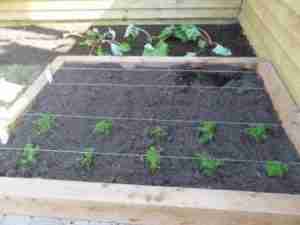 The owner of this garden in Bettystown, co. Meath like many others wanted to start growing her own seasonal vegetables  in dedicated vegetable beds but also wanted an easy to manage and laid out plot with a small paved area for a greenhouse. We created five raised beds 1.2 x 1.8m long with a brick edging surround so that it would look tidy and be easy to cut with a mower. The grass wont now grow against the sleeper edges also which is a great labour saving asset. The vegetable beds were filled with a mixture of farm yard manure and top soil. With this layout in the design we maximised the space within her garden to allow for five raised beds for crop rotation and an area at the end for two apple trees while at the opposite end we planted some fruit bushes of gooseberry and loganberry and some rhubarb. The raised vegetable beds are also suitable for growing herbs too.
Within the raised vegetable  beds we planted potatoes, leeks, onions (white and red), garlic, carrots, chard and parsnip.
Vegetables can be grown from seed or small bulbs& tubers depending on the variety. Though if  you are new to growing vegetables they can also be bought as plugs also which have been grown on from the seed for you! What could be easier for a starter home vegetable kit?.
The apple trees we planted were a desert tree 'Elstar' and a 'Bramley seedling' (cooking apple), one tree pollinates off the other though they can also pollinate from local trees up to a mile and a half away. Though if you have the space having three apple trees is also good combination for pollination.
The garden also has a water butt connected to the roof gutters means a ready, and sustainable supply of water for the vegetable beds in the garden. Were looking  forward to returning at harvest time and hoping to be invited to the feast!