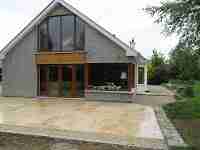 Gardens designed and transformed, Fencing installed, Turf lawns laid, raised beds built & planted garden lighting installed, patios laid with a range of styles and materials.
New contemporary styled Travertine raised patio with gravel surrounds and  inset led garden lighting.
Proposed terrace area
Our client here in Rossin, Slane co.Meath had recently extended their home and in doing so they had also created vistas from their home into the beautiful surrounding countryside. They wished to have these views maximised by creating a large contemporary terrace which would also complement the design of their home.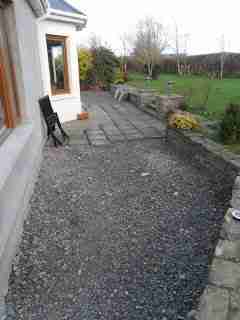 Original side patio area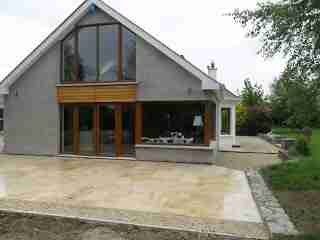 Finished travertine patio
They had chosen for the patio style a composite Travertine slab which gave a soft and bright appearance to the proposed terrace. We gladly obliged in completing the patio for them and installing led lights in the patio which would give another outlook and style to the garden into the evening and night. The patio was then sealed with a propitiatory sealer to protect the slab and help keep it clean. The sealer we chose also gave a soft sheen to the slab which also looks great when the slabs were wet.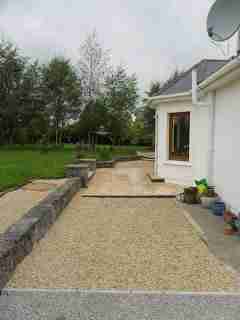 finished patio area and flower bed
Terrace side view
Original  potholed driveway approach
They wished also  to have their driveway gravelled and kerbs realigned and drains completed where necessary We hard cored the existing driveway and compacted it with a large roller. Then a two inch layer of light coloured decorative limestone gravel was applied to the driveway to give a bright and clean finish to the driveway. The finished driveway and patio we completed during last summer truly complement there home and garden adding an aesthetic appeal and value to their property.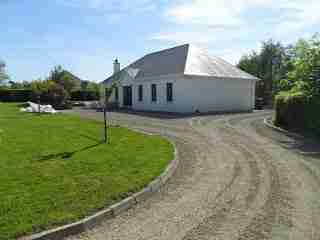 Finished limestone gravel driveway
Once this was completed we created a wildflower and grass meadow in their adjoining garden which we look forward to seeing and  posting about  later after our return visit.
https://greenartlandscapes.ie/driveways/